Private: 2019 Norway: Aurora, Culture, and Scenic Wonders Overview
Important:
TravelQuest, working with our partners, makes every effort to follow the published itinerary. However, please keep in mind that it is subject to change depending on weather and other local conditions.
It is important to acknowledge that seeing the aurora borealis is Sun and weather dependent, and TravelQuest can make no guarantees that the Sun and weather will cooperate.
Level 2 – Easy/Moderate – short to medium walks over uneven hilly terrain, with rain and possibly snow, with easy/rugged travel conditions. Some landings are by tender boat, so getting on and off the craft may be difficult for people with impaired mobility. We at TQ want to be sure you find the trip that's right for the trip that best suits your interests and level of fitness.
Itinerary
Day 1 - Sunday, September 22, 2019
No Meals
Arrive Oslo, Norway
Landing at Oslo Airport (code: OSL) on your own schedule, you're met by our TravelQuest representative for a quick transfer to your city center hotel. Settle in, then enjoy the rest of the day relaxing or discovering Norway's gracious capital. Join us this evening for a brief get-together to go over the coming days ahead.
Overnight: Thon Hotel Opera, Oslo
Day 2 - Monday, September 23, 2019
Breakfast / Dinner
Scenic Rail Tour to Flåm and Voss
Your journey through some of the planet's most magnificent landscapes begins with a unique railway tour among the UNESCO-protected fjords of south-central Norway. Set out in comfort from Myrdal Station on the Hardangervidda Plateau, 867 m (2,840 ft) above sea level, descending into steep mountain valleys, past dramatic waterfalls and through 20 tunnels until you reach the shores of the Aurlandsfjord in Flåm. This exhilarating journey is followed by a delightful cruise through the magnificent Aurlandsfjord. All you need is your camera and a carry-on bag; your other luggage will be transferred separately to our hotel in Voss.
Overnight: Fleischer's Hotel, Voss
Day 3 - Tuesday, September 24, 2019
Breakfast / Lunch
Bergen
This morning we set off by private motor coach on the scenic drive to Bergen, the medieval capital of Norway. The rich history of the Old City comes to life at the UNESCO World Heritage Site of Bryggen, where our expert-led tour includes the summerhouse of composer Edvard Grieg. Other highlights include the historic fish market, the Hanseatic Museum and the Fløibanen Funicular, which offers superb views of the city. Spend this evening exploring this charming city on your own.
Overnight: Hotel Havnekontoret
Day 4 - Wednesday, September 25, 2019
Breakfast / Dinner
Cruising M/S Nordkapp
Relax this morning and further explore Bergen on your own. End-of-season discount sales make for great holiday shopping opportunities. Late in the day we board the Hurtigruten ferry ship
M/S Nordkapp
to begin our northward voyage along a coastline pierced by deep fjords and overlooked by snowcapped mountains. After dinner, join us for the first of six nights of promising aurora viewing from the ship's decks.
Overnight: M/S Nordkapp (6 Nights)
Hurtigruten Winter – Ole C. Salomonsen
Under Norwegian Skies
By TravelQuest Astronomer Paul Deans
Norway is renowned for many things. Magnificent fjords. Fierce Viking warriors. The hardy Sami people herding reindeer across the tundra. Legendary explorer Roald Amundsen. Two creative geniuses named Edvard – Grieg and Munch. And, of course, the celestial lights that often dance across the vast northern skies: the aurora borealis.
The aurora's eerie, constantly changing lightshow is created by charged particles from the Sun that are trapped in Earth's magnetic field. When the field is overloaded as the result of solar activity, these particles race down the magnetic field lines into our planet's upper atmosphere and smash into atoms of gas, releasing photons of light in the process.
This unforgettable spectacle unfolds within the auroral zone, a pair of ovals roughly centered on Earth's north and south geomagnetic poles. All of northern Norway lies beneath the northern aurora oval, and this means that on most nights a display of the aurora borealis will likely be visible – if the sky is clear, of course.
Although solar activity has declined during recent years as part of the regular solar cycle, this does not mean the Sun has gone quiet. The solar wind continues to generate northern lights by pouring charged particles into the Earth's magnetic field, while coronal holes and the occasional coronal mass ejection generate active bursts of auroral activity. That said, attempting to forecast the appearance of the northern lights as far ahead as September 2019 is an impossible task! But we will be monitoring scientific websites that report on solar and auroral activity before and during the tour – and naturally, checking the sky each night during our Norway adventure.
A final note on timing: It turns out that aurora activity peaks during the equinoxes. That's why we plan to be under the dark Norwegian skies shortly after the autumn equinox of 2019.
Day 5 - Thursday, September 26, 2019
Breakfast / Lunch / Dinner
Cruising: Hjørundfjord – Urke
Arriving on M/S
Nordkapp
in Hjørundfjord, venture ashore by tender to the tiny village of Urke, ringed by snowcapped peaks of the Sunnmøre Alps. There you board a motor coach for a fascinating included excursion through Norangsdalen, Norway's narrowest valley, as our expert guide offers insights into a region whose cultural riches rival its spectacular natural scenery. Among our many stops along the way is Lyngstølvatnet Lake, which was formed by a landslide from the slopes of Mt. Keipen in 1908. Beneath the lake's blue waters, you can still see the old road, along with the foundations of farmhouses and a stone gateway. Continuing on through stunning landscapes, we come to historic Hotel Union Øye, where you enjoy a feast of local specialties. We then get you back to Urke in plenty of time to explore the village and learn more about its intriguing history – including the many visits of Kaiser Wilhelm II of Germany to this favorite holiday spot.
Day 6 - Friday, September 27, 2019
Breakfast / Lunch / Dinner
Cruising: Trondheim
Set on Trondheimsfjord at the mouth of the Nidelva ("Nid River"), Trondheim is a city of architectural contrasts, blending historic wooden buildings and monastery ruins with colorfully painted wharfs, and the distinctive red Gamle Bybro Bridge, which dates from 1681. With our private guide, explore the bustling city center, dominated by Nidaros Cathedral, walk the old port area along the Nidelva, and check out the focal point of Trondheim – the Market Square (Torget). Then, join our trip astronomer later in the day for a discussion on the history and science of the aurora borealis.
Day 7 - Saturday, September 28, 2019
Breakfast / Lunch / Dinner
Cruising: Bodø
As we explore Norway's rugged northwest coast, the
Nordkapp
puts in at many towns and villages that are inaccessible by land. Then, in the early morning hours, we cross the Arctic Circle, the invisible line that encircles the Earth at 66° 33´N. Our destination is Bodø, set on the Saltstraumen, a narrow strait that boasts the strongest tidal current on the planet. Your visit to this remote outpost includes a not-to-be-missed excursion via RIB (rigid inflatable boat) to observe sea eagles, Europe's largest predatory bird, and experience the remarkable tidal effect up close. In the evening, join us for a traditional Nordic feast in the Lofotr Viking Museum, a replica of the largest Viking building ever unearthed by archaeologists. Enjoy reenactments from Norse history, then dine as guests of the Chieftain and Lady of the house before returning by coach to the
Nordkapp
, now docked in nearby Svolvær.
Day 8 - Sunday, September 29, 2019
Breakfast / Lunch / Dinner
Cruising: Tromsø
The largest city in northern Norway, Tromsø is alive with history. Upon disembarking the Nordkapp, enjoy a guided walking tour that takes you past the statue of Roald Amundsen (Norway's most renowned polar explorer), as well as the monument to Arctic hunters and the town's market square, which offers wonderful views of the famed Arctic Cathedral. Then it's on to the Polar Museum, located in an old customs house from the 1830s, featuring exhibits from Norway's proud polar history, including artifacts from many landmark expeditions. Another of this fine museum's highlights is a film of the Arctic experience, featuring traditional hunters.
Day 9 - Monday, September 30, 2019
Breakfast / Lunch / Dinner
Cruising: North Cape
Wake up to views of windswept coastal headlands and the vast sub-Arctic landscape beyond as you cross 71°N on our journey to Nordkapp (North Cape), the northernmost point in continental Europe. Journey up to the Cape plateau, which rises more than 300 m (1,000 ft) from the sea, where you can take in magnificent vistas – with superb photo opportunities – from the cliff tops.
Day 10 - Tuesday, October 1, 2019
Breakfast / Box Lunch / Dinner
Kirkenes - Russian Frontier - Karasjok
You disembark this morning in Kirkenes, a historic Arctic port near the Norway-Russia border. Our local Sami guide welcomes you for a tour of town, followed by a scenic drive via motor coach to Storskog – the only legal mainland crossing point along the 200 km (124 mi) frontier.
After a lunch stop, we carry on through Tana bru following the Tana River, which flows northeast into the Arctic Ocean and defines another historic frontier, this one between Norway and Finland. Passing through the Northern Lapland town of Utsjoki, you arrive in the early evening at our home for the next two nights: Karasjok, where you can look forward to superb aurora viewing opportunities from the grounds of our hotel.
Overnight: Hotel Karasjok (2 Nights)
Day 11 - Wednesday, October 2, 2019
Breakfast / Lunch / Dinner
Karasjok and Sami Culture
This morning our expert guide takes us to nearby Sami Cultural Park, where you're immersed in the life of the Sami people (also known as Lapps or Laplanders), who've lived in this isolated wilderness region since prehistoric times. Our hosts share insights into their rich history, culture, and spiritual beliefs – and also serenade you in the intricate, chant-like singing style known as
joik
. Later, enjoy a guided tour of the regional parliament, whose main assembly hall is designed in a half-circle to mirror the traditional Sami
lavvu
or tent. Your full day of cultural discoveries ends with dinner at Storgammen, a unique Lapland restaurant built of timber and turf. Sitting by the fire on reindeer skins, enjoying authentic Sami dishes, it's easy to feel you've slipped several centuries into the past.
Day 12 - Thursday, October 3, 2019
Breakfast / Lunch / Dinner
Karasjok - Alta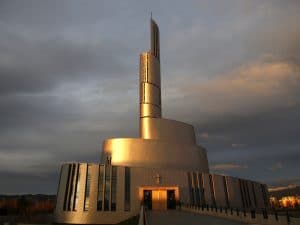 After checkout, we continue our overland journey north to Kautokeino, keeping an eye out for reindeer, and stopping to visit a gallery showcasing silver jewelry and other items crafted in both traditional and contemporary designs. After lunch we drive a scenic route, passing through a lovely gorge, en route to Alta, the largest town in the remote region of Finnmark. Our hotel in Alta is conveniently placed next to the beautiful Northern Lights Cathedral, a sight to behold day or night.
Overnight: Hotel Alta
Day 13 - Friday, October 4, 2019
Breakfast / Dinner
Rock Art of Alta - Oslo
After breakfast and checkout, it's just a short drive to the ancient rock art site for which Alta is renowned. So far archaeologists have discovered more than 6,000 paintings and carvings, some dating back several millennia. The area with the largest concentration of images has been designated a UNESCO World Heritage Site and transformed into an open-air museum. At midday, it's time to journey back to Alta and catch our return flight to Oslo, where you can enjoy a final evening at your leisure, either in the city or relaxing at our airport hotel.
Overnight: Park Inn by Radisson, Oslo Airport
Day 14 - Saturday, October 5, 2019
Breakfast
Oslo - Onward
It's an easy post-breakfast walk through Oslo Airport to catch your onward flight, carrying with you memories of an incredible journey through Norway's fjords, a deeper understanding of its indigenous past and, with luck, indelible images from the most spectacular lightshow on Earth.
Add-on – Friday, September 20, 2019 & Saturday, September 21, 2019
Breakfast
Add-On Oslo Pre-Night Option
If you'd like to arrive in Oslo a night or two early, TravelQuest has reserved a limited number of rooms at the Thon Opéra Hotel, ideally located in the Oslo city center.
Cost per person, per night: $175 USD double occupancy, $285 USD single occupancy, including arrival transfer, taxes, and daily breakfast.