Dates:

Feb 06 - 14, 2021

Duration:

9 days, 8 nights

Trip Level (1-4):

2
Arrive:

San José, Costa Rica

Depart:

San José, Costa Rica

Priced From:

$3,980
This tour departs in
DAYS
Highlights
Discover a paradise of biodiversity and spectacular natural beauty – just a 2.5-hour flight from Miami
Walk hanging bridges among the treetops in Arenal Volcano National Park
Explore Santa Elena Cloud Forest in Monteverde, keeping an eye out for colorfully plumed quetzals
Enjoy birding and wildlife spotting with our expert naturalist guide, including on a boat tour through the Abangares River Mangrove
Experience three nights of uninterrupted stargazing from the private grounds of our Star Lodge
Take in superb views of the southern night sky (weather permitting), exploring the Southern Cross, Carina Nebula, Omega Centauri and countless Milky Way gems surrounding Scorpius and Sagittarius.
Exploring Costa Rica and the vast southern sky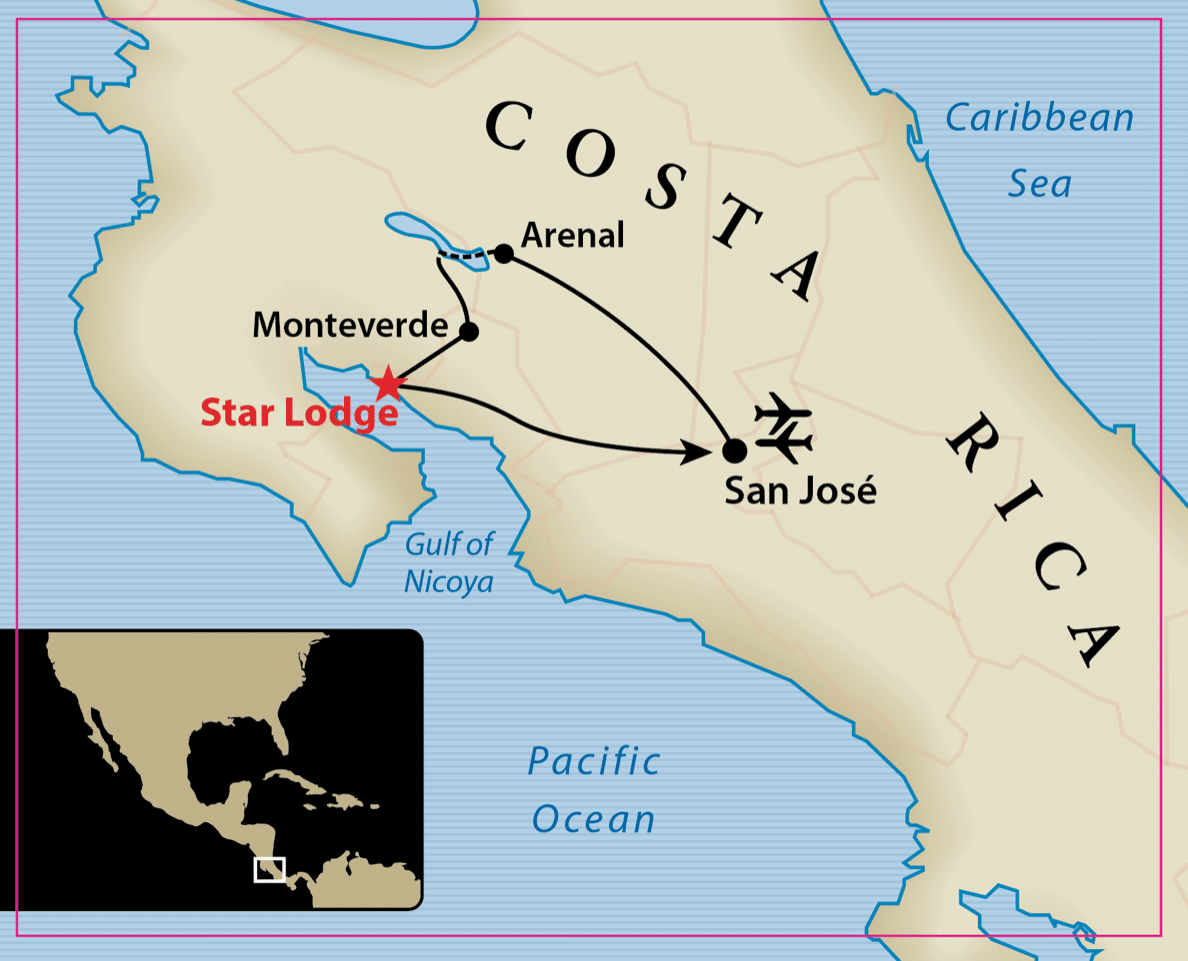 Follow rainforest paths in search of tropical wildlife. View a magnificent cone-shaped volcano from the treetops. Spot countless water birds among the coastal mangroves. Plunge into invigorating hot springs in a jungle clearing. Then, for three memorable nights, scan the southern sky from an ideal vantage point on the Pacific coast, for a wonderland of southern stars, deep-sky objects, and the winter Milky Way.
TravelQuest offers you all of this and more on our new February 2021 adventure: Jewels of Costa Rica and the Southern Milky Way. Come and see why travelers from around the world celebrate this beautiful country in the heart of Central America for its rich biodiversity, dramatically varied landscapes, and the warm hospitality of a people who love to share what they call la pura vida – "the pure life." From Arenal Volcano and Tabacón Hot Springs, to Monteverde and the Santa Elena Cloud Forest, experience the best of this safe, accessible paradise on North America's doorstep, and cap off your adventure with three nights of incomparable stargazing at our exclusive plantation retreat, Star Lodge.
Cosmic splendors not seen from home
More than half of the the brightest, largest, and most dazzling clusters, nebulae, and galaxies are visible in the southern sky. So, if you live in the Northern Hemisphere, traveling southward to see the spectacle for yourself is well worth the journey, at least once in a lifetime. We've timed our three nights of Milky Way stargazing to coincide with both the New Moon and the driest part of the year in western Costa Rica. This should ensure the greatest number of clear, star-filled nights – viewed from an open grassy area on the grounds of our lodge, with wide views of the southern horizon. Our Trip Astronomer will be able to take you on a joyride around the galaxy with an Explore Scientific 16-inch Truss-Tube Dobsonian telescope, with a 2" 82° apparent field 30mm eyepiece, akin to peering into a large cosmic porthole. You will find the Southern Cross, Carina Nebula, Omega Centauri and other wonders perched high up in the sky.
Discovering life on Earth
Costa Ricans are dedicated to conservation and environmental education. Our naturalist guide will show you the best of the country's diverse ecosystems – from primeval rainforests to mangrove-lined waterways along the Pacific coast. Spot monkeys and sloths in the forest canopy, crocodiles and exotic frogs in the wetlands, myriad species of jungle and water birds soaring overhead – not to mention a host of plant life, from orchids and bromeliads to mosses, ferns and flowering vines. Our guide will masterfully locate otherwise-missed species in veiled dwellings and teach you to recognize concealed shelters and telltale signs of life in some of the most fascinating natural habitats on the planet. 
Right place, right time
It's easy to forget how accessible Costa Rica is – only a 2.5-hour flight from Miami. In fact, it's on Central Time, so there's none of the usual jet lag that comes with crossing multiple time zones. Other aspects of everyday life are equally simple, whether it's the standard North American AC voltage (no need to pack adapters) or the fact that US dollars are accepted virtually everywhere. Best of all, it's one of the safest and most hospitable destinations to which TravelQuest journeys.
February is the perfect time for a tropical escape from the northern winter, exploring some of the world's most striking natural wonders and gathering with a small group of intrepid sky watchers to see what secrets the southern sky reveals.
Join Dave Eicher in Costa Rica
Chief editor of Astronomy Magazine and our Costa Rica stargazing astronomer
Dave Eicher is Editor-in-Chief of Astronomy Magazine, the world's largest publication on the subject, and the author of 25 books on science and history. Most recently, author of Cosmic Clouds 3-D: Where Stars Are Born (with Brian May) and Galaxies: Inside the Universe's Star Cities. He has been a staff member of Astronomy magazine for 37 years, and chief editor since 2002.
Eicher has spoken widely to astronomy groups, appeared on television programs, and spent hundreds of hours at the eyepiece as an accomplished observer. He was founder and editor of Deep Sky magazine. He is a member of the Board of Directors of the Starmus Festival, Editor-in-Chief of the international Asteroid Day project, a board member of Lowell Observatory, and involved in mineralogy, studies of American history, and blues and rock drumming with his Astro Blues Band.
Join us and discover the Pura Vida lifestyle in one of the most awe-inspiring places on Earth!