Dates:

Dec 06 - 18, 2020

Duration:

13 days, 12 nights

Trip Level (1-4):

2
Arrive:

Rio de Janeiro, Brazil

Depart:

Buenos Aires, Argentina

Priced From:

$8,880
This tour departs in
DAYS
Highlights
Enjoy a 12-night adventure featuring three nights each at handpicked hotels and resorts in Rio de Janeiro, Iguazu Falls, Bariloche and Buenos Aires.
Experience nearly two minutes of darkness at our expertly chosen viewing site during the December 14 total eclipse of the Sun.
Discover the magic of Rio from our hotel fronting Copacabana Beach, with the opportunity to visit Sugarloaf Mountain and the iconic hilltop statue of Christ the Redeemer.
View magnificent Iguazu Falls from both the Brazilian and Argentine sides – and on an amazing powerboat excursion into the waterfalls.
Stroll the grand avenues of Buenos Aires, visiting historic and cultural sites, as well as an authentic tango performance.
As an added bonus, take a scenic river cruise on our optional pre-tour excursion to Brazil's Amazon region.
Total Solar Eclipse Tour Destination: Argentina & Brazil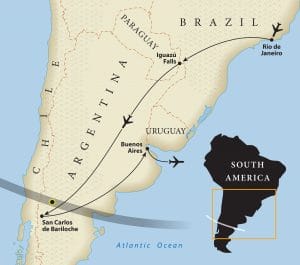 TravelQuest last journeyed to these two beautiful countries in November 1994 to experience the total solar eclipse of the Sun. A quarter-century later, we look forward to once again sharing some of our favorite highlights, from the beaches and samba rhythms of Rio de Janeiro to the cosmopolitan elegance of Buenos Aires to some of the world's largest waterfalls at Iguazu – which you'll view from both Argentina and Brazil on platforms perched above the rising mists.
As long as you're in South America, this is a perfect opportunity to explore a few other destinations that are on most travelers' bucket lists while going to see a total solar eclipse – including the Brazilian Amazon, taking advantage of our optional pre-tour river cruise on the famed Rio Negro, with its profusion of jungle wildlife and fascinating indigenous cultures.
Of course, the focal point of your total solar eclipse adventure comes on December 14, 2020, as you experience 1 minute and 52 seconds of totality in the vast wilderness of northwestern Patagonia.
You'll notice from the itinerary that we've arranged to spend three nights at each of our four destinations. This will give you more time to settle in and appreciate our carefully selected hotels, each distinguished by its superb location, excellent service, and unique charms. Indeed, our landmark hotels in Rio, Iguazu, and Bariloche are historic destinations unto themselves.
Think of this 12-night journey as a South American lifetime adventure, blending spectacular natural beauty with cultural riches, and crowned by an unforgettable total solar eclipse experience.
Argentina Weather Prospects for Total Solar Eclipse Viewing
by TravelQuest Eclipse Meteorologist Jay Anderson
The Argentina eclipse 2020 comes in the Southern Hemisphere summer, when Argentina enjoys generous amounts of sunshine – in fact, the most of any location along the eclipse track. TravelQuest has selected a viewing site that not only capitalizes on the favorable climatology but also takes advantage of the local terrain to maximize our chances for a successful total solar eclipse experience. From 2000 through 2018, our site was clouded over only twice during this part of December. In thirteen of those years, the days were completely sunny; in the other four years, the area only saw a thin cloud, through which a total solar eclipse would have still been visible. December temperatures in Argentina are pleasantly warm. What's more, the Sun will be almost directly overhead at the time of the total solar eclipse – and our viewing site is protected from the strong winds for which Patagonia is well known.