Dates:

Mar 29 - Apr 09, 2024

Duration:

12 days, 11 nights

Trip Level (1-4):

2
Arrive:

Los Mochis, Mexico

Depart:

Torreón, Mexico

Priced From:

$6,980
This tour departs in
DAYS
Highlights
A handpicked viewing site offering some of the best prospects for clear skies during the April 8 total solar eclipse.
A panoramic train ride through the Sierra Madre range to famed Copper Canyon.
Behold the fascinating culture of the Tarahumara people, who've lived in the mountains for centuries.
We discovered many years ago that northern Mexico, with its dramatic landscapes and vast skies, was an extraordinary – and wonderfully accessible – destination for eclipse viewing and stargazing. Now, after decades of exploring every region of the planet, we're happy to be returning once again to Mexico for the total solar eclipse of April 8, 2024.
Join us as we discover the scenic coast of the Sea of Cortez, which separates the Baja California peninsula from the Mexican mainland. Then travel by train into the Sierra Madre range to famed Copper Canyon – actually six interconnected canyons whose steep walls have the greenish hue of oxidized copper. Finally, on eclipse day, watch the Moon's shadow unfurl across a rugged landscape to envelope you in a haunting 4 minutes and 4 seconds of darkness.
It's definitely time to reunite with friends or family on a long-overdue vacation. We can't imagine a better way to see the real Mexico than on this one-of-a-kind eclipse tour, expertly supported by the same local partners who first brought us here over 20 years ago. To be sure you're among those who join us, make your reservation now – and start counting the days!
Torreón, Mexico – April 2024 Eclipse Weather Prospects
by TravelQuest eclipse meteorologist Jay Anderson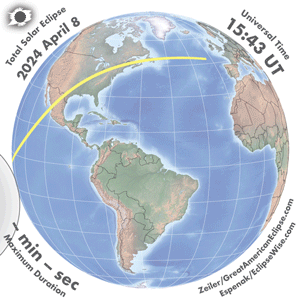 Mexico in April is made for an eclipse. Sunshine is plentiful – better than anywhere else along the 2024 track – and the city of Torreón lies in the center of this abundance, less than 50 miles from the point of maximum eclipse. Average cloud cover over the city, according to observations from satellites, is barely 20 percent. An examination of April 8 images from 2000 to 2021 shows that the eclipse would have been visible every year –16 in completely clear skies and the rest in thin cirrus cloud. Torreón's daytime temperatures are high but cool sharply at night thanks to the city's altitude and the dry desert climate. No eclipse site comes with a guarantee of sunny skies, but Torreón is as close as it gets.