Dates:

Apr 17 - 21, 2023

Duration:

5 days, 4 nights

Trip Level (1-4):

2
Arrive:

Learmonth, Western Australia

Depart:

Learmonth, Western Australia

Priced From:

$7,960.00
This tour departs in
DAYS
Highlights
Watch the Moon's shadow sweep across Australia's western coast during the 49 second April 20, 2023 total solar eclipse.
Relax for four nights at an exclusive eco-camp among the dunes overlooking Ningaloo Reef.
Join us nightly for a guided tour of the Milky Way – Southern Outback Edition.
Snorkel or paddle your sea kayak over coral formations, viewing schools of exotic fish and other marine life.
Swim with docile whale sharks (conditions permitting) in the open ocean.
5-day Outback Eclipse Adventure in Western Australia at Sal Salis Eco-Retreat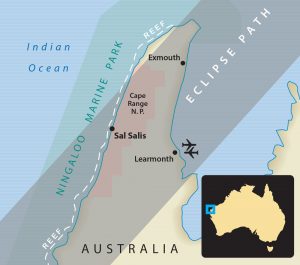 When the Moon's shadow passes over the western coast of Australia, where would you like to be? Walking among pristine dunes at the edge of the Indian Ocean? Swimming out into the crystal-clear waters above a spectacular coral reef? Or relaxing in a hammock outside your walk-in safari tent – the same vantage point from which you've spent the last few nights scanning the star-filled southern skies?
These are the kinds of choices you'll get to make on TravelQuest's outback eclipse adventure in Western Australia. Join us in April 2023 as we journey through Cape Range National Park, renowned for its limestone gorges and unspoiled beaches, to your exclusive home for five days: Sal Salis Ningaloo Reef, an award-winning eco-friendly safari camp set among dunes where the outback meets the reef.
The creators of Sal Salis have distilled splendor down to its essence: the freedom to immerse yourself without cares in a place of extraordinary beauty. Your spacious tent, one of only 16 nestled among the dunes, sits on a raised platform with fabulous views of the coastal wilderness and the ocean beyond. The amenities offer a secluded retreat with a warm bed and an eco-conscious en suite bathroom. While there's no air conditioning, cooling breezes blown in from the sea float through your tent. During your stay you will enjoy elegantly prepared meals from fresh, local ingredients. With no phones, TV or internet, you will be immersed in the "unplugged" beauty of your surroundings, forging a deep connection with nature, and each other.
Best of all for TravelQuest explorers, Sal Salis lies right within the path of totality for the solar eclipse of April 20, 2023. Those magical 49 seconds are the focal point of this unique travel experience that has it all: Superb stargazing in a region of remarkably dark skies, and hiking to protected canyons spotting wildlife – from emus to echidnas to red kangaroos – in the rugged outback. Not to mention swimming and snorkeling along the Ningaloo Reef, with its incredible profusion of marine life – including the world's largest fish, the gentle whale shark, which migrates through these waters each year.
Our Australian eclipse adventure on the North West Cape promises to be a once-in-a-lifetime experience. And naturally, space is limited – so sign up today to reserve your place in our luxury beach camp, and we'll keep you up to date as TravelQuest's trip designers finalize all the details.
Eclipse viewing prospects in Exmouth, West Australia
By TQ Astronomer, Jay Anderson
In April, the northwest coast of Australia lies in one of the sunniest areas in the Southern Hemisphere. Statistics acquired from satellite show an average cloud cover of only 28 percent in April at Exmouth. Weather station observations from the local airport confirm the high frequency of sunny days, with nearly 80 percent of the days of the month reporting clear skies or scattered cloud at eclipse time. Closer examination of daily satellite images confirms the generous sunshine of all of Australia's North West Cape, as all but one of the April 20s stretching back to the year 2000 would have provided an easy view of the eclipse. Exmouth and the surrounding area enjoy the very best of Australian sunshine, and for those interested in the stars as well, the very best of nights.