Dates:

May 02 - 18, 2021

Duration:

17 days, 16 nights

Trip Level (1-4):

3
Arrive:

Addis Ababa, Ethiopia

Depart:

Addis Ababa, Ethiopia

Priced From:

$10,480
This tour departs in
DAYS
Highlights
Enjoy an all-inclusive adventure: expert local guides, full accommodations, virtually every meal, private ground transportation and all flights within Ethiopia.
Discover East African tribal cultures never subject to European colonial rule, including the Mursi people, with their distinctive lip plates.
Explore the Great Rift Valley, visiting various UNESCO-protected sites and cultural communities.
Tour Destination: Ethiopia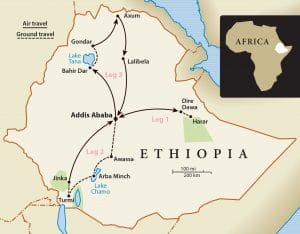 Many of us first discovered the rich culture and haunting landscapes of Ethiopia decades ago, flipping through the pages of National Geographic magazine. Back then it was a uniquely mysterious corner of the modern world. And even today, this vast land in northeast Africa – the only nation on the continent never colonized by Europeans – remains largely unexplored by travelers.
In May 2021, TravelQuest will change all that – with a one-of-a-kind trip venturing deep into the heart of Ethiopia. This is a rare chance to weave your own story into an ancient narrative, capturing unforgettable images along the way. From the bustling markets of Addis Ababa to remote tribal communities seldom visited by outsiders, at every turn you encounter another dimension of this fascinating country and its welcoming people.
A Rare Opportunity
In an era when the farthest reaches of the globe are readily accessible to travelers, Ethiopia is the exception. Few destinations offer such a remarkable range of natural phenomena and cultural experiences – in places most of us only know through the work of intrepid writers, photographers and documentary filmmakers.
TravelQuest has created a 17-day itinerary through what was once the heart of the Abyssinian Empire, and our expert trip design team has worked out all the complex logistics. From the headwaters of the Blue Nile to coffee farms growing the country's best-known export, from historic lakeside monasteries to remote villages of the Hamer and Konso peoples, we show you the Ethiopia you've dreamed of exploring – and would have great difficulty finding on your own.
An Incredible Journey
Those who've joined us on comparable adventures – eastern Turkey in 1999, Libya in 2006, China's Silk Road in 2008, Mangaia in the Cook Islands in 2010, Kenya in 2013 – know that taking the road less traveled can have its challenges. But as with all of our successful past adventures, the incredible experiences and unexpected moments of your Ethiopian journey will yield memories you'll reflect on for years to come.
If you've ever dreamed of visiting this intriguing country, now is the time.