Dates:

Apr 09 - 24, 2023

Duration:

16 days, 15 nights

Trip Level (1-4):

2
Arrive:

Bali, Indonesia

Depart:

Broome, Australia

Priced From:

$14,830
This tour departs in
DAYS
Highlights
Enjoy 16 days aboard Le Lapérouse, Ponant's intimate and elegantly appointed 184-passenger expedition ship.
Visit Komodo National Park, home to the world's largest living reptiles, exploring the island's pristine mangrove environments.
Discover the intriguing and seldom visited island nation of Timor-Leste, with chances to view rock art dating back thousands of years.
Experience the 1-minute-12-second total solar eclipse on April 20, 2023 from one of the best viewing locations along the center line path.
Enjoy Zodiac outings and excursions ashore along Australia's spectacular Kimberley Coast — including chances to witness unique tidal phenomena like the Horizontal Falls.
Expand your knowledge with lectures from Ponant's expedition team and TravelQuest's signature astronomy programming.
Arrive ahead of our sailing date and experience even more of the magical island of Bali.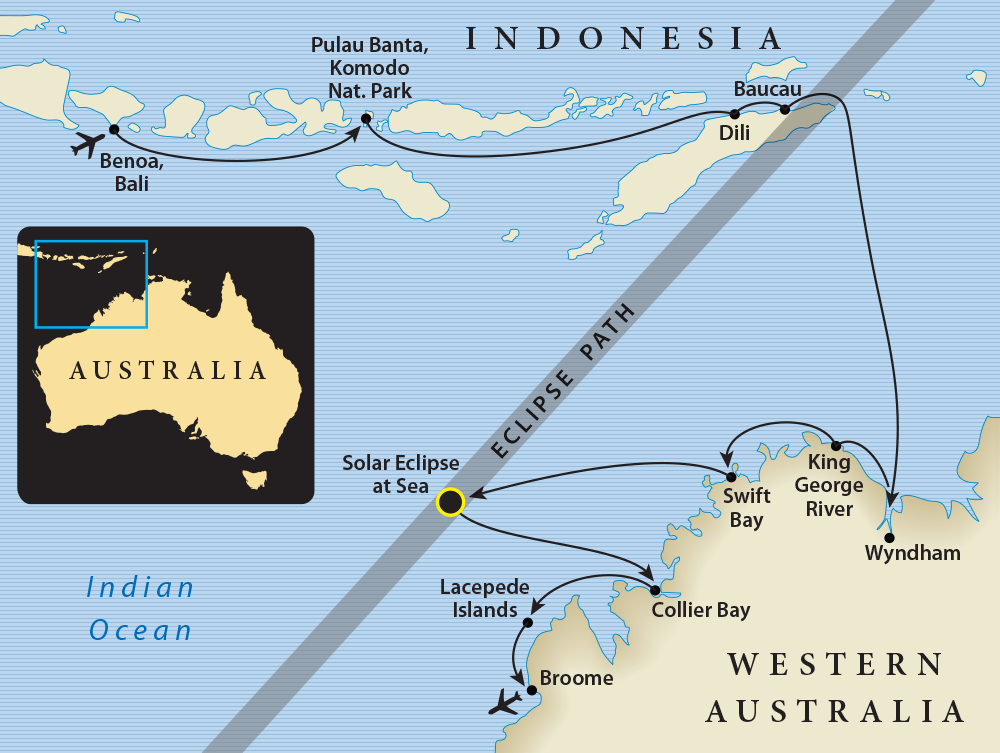 For most of us, Bali conjures up dreams of exotic escape from our everyday lives. But what if this jewel of the Java Sea was just the starting point for a journey even further beyond the ordinary? Imagine sailing on a luxury expedition ship to a remote island preserve of giant dragon lizards. Then venturing ashore on one of the world's tiniest island nations — discovered by Europeans 500 years ago but still visited by few outsiders. And finally, as you sail toward the wild coast of Western Australia, arriving at a perfect spot in the Timor Sea to watch the Moon's shadow pass over the ship in a total eclipse of the Sun.
These are the kinds of unforgettable experiences that TravelQuest weaves together in our newest adventure: Bali to Broome Total Solar Eclipse Cruise, which sets sail for 16 days on April 9, 2023.
Leaving your usual world behind
Your journey begins on the Indonesian island of Bali, celebrated for the magical beauty of its landscapes and their power to rejuvenate both body and spirit. (To see what we mean, opt for a pre-cruise stay at one of our favorite beachside resorts — the ideal way to get over jet lag). It's here that we board our floating home for the next two weeks: the intimate, 184-passenger expedition ship Le Lapérouse, part of Ponant's award-winning luxury cruise fleet. Sailing eastward through the Indonesian archipelago, we reach a remote, protected island named for its legendary inhabitants: Komodo dragons, the giant monitor lizards that reach up to 10 feet in length. From there, we wind our way further east to little-known Timor-Leste, a former island outpost of the Portuguese empire famed for its coral reefs.
Total immersion in nature's wonders
Then, on April 20, 2023, the centerpiece of our trip: at a carefully calculated spot in the Timor Sea, the captain slows our ship so we can experience a dramatic 1-minute-12-second total eclipse of the Sun. No matter where we witness totality, it is one of nature's greatest wonders, but the sense of awe is amplified when you're at sea — especially in such a remote and unexplored part of the planet.
How do we match this highpoint? By setting it alongside another: Australia's stunning Kimberley Coast, with its sheltered bays, deep gorges, and expanses of savannah beneath rugged mountain peaks. Your adventure continues as we sail into Collier Bay to view the tidal waters receding in a massive wave over Montgomery Reef. We then journey inland to explore the King George River, with its majestic twin waterfalls. And when we finally disembark at the beach-lined resort town of Broome, you'll reflect on a trip that's certain to rank among the most memorable journeys of your life.
Just be sure to book soon — we expect this adventure to sell out quickly!
2023 Eclipse Weather Prospects on the Timor Sea
By TQ eclipse meteorologist Jay Anderson
The Timor Sea is a very good location from which to watch a solar eclipse. April comes on the heels of the wet season, when precipitation and cloud cover are descending from their February maximums. The dry season is on its way. Satellite observations reveal that average cloudiness is less than 40% over much of the sea; in more southerly parts, it sinks still further, to only 25%. Even more enticing, the largest part of this meagre cloud cover comes from small cumulus buildups — cloud formations that are easily avoided on a ship. Archived satellite images since 2000 show that a shipboard position in the central Timor Sea would have been able to view an April 20 eclipse on all but one of those years — among the most promising records in eclipse-viewing annals.